Partnership spotlight: One Keyera employee's connection to Indspire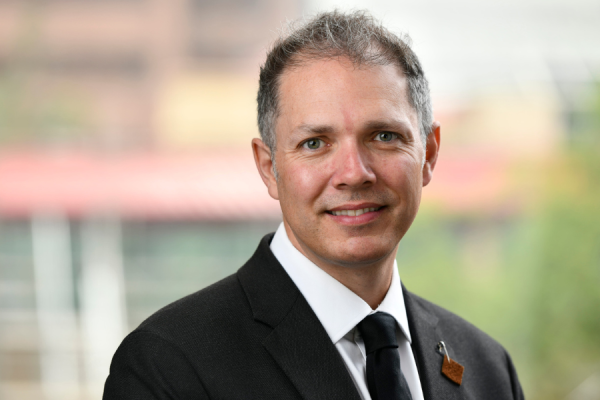 Keyera is a proud partner of Indspire, a national Indigenous charity that invests in the education of First Nations, Inuit and Métis people for the long-term benefit of these individuals, their families and communities, and Canada. This year, Keyera has deepened its connection with Indspire, becoming Host Region Sponsor of the 2023 Soaring: Indigenous Youth Empowerment Gathering and the Indspire Awards, both taking place in May.
One of our people, Kris Frederickson, Director, Sustainability has a unique connection with Indspire. In 2004, he won a Special Youth Indspire Award for demonstrating academic excellence, a strong work ethic, and involvement in his campus community. And this year through Keyera's partnership, he is speaking with students at the Soaring: Indigenous Youth Empowerment Gathering. We sat down with Kris to hear more about why education is so important, his hopes for the students attending Soaring, and his career path and experiences.
First, for anyone who doesn't know you, can you share a bit about your background?
I am proudly Métis, hailing from the Red River homeland. In 2021, I joined Keyera as the Director of Sustainability, bringing over 20 years of experience in sustainability-related fields. Previously, I worked at Suncor and MEG Energy. I hold undergraduate and master's degrees in Biosystems Engineering from the University of Manitoba and an MBA in Indigenous Business & Leadership from Simon Fraser University's Beedie School of Business.
What are your hopes for the students attending the 2023 Soaring: Indigenous Youth Empowerment Gathering, and what advice would you give them?
It's a privilege to be able to represent Keyera and share some brief words with the students there. My hopes are that they be bold in their goals, have the courage to challenge the system, and lean into their culture as a source of strength, pride, and balance.
Why do you believe education, especially for Indigenous youth, is so important?
Getting an education can highlight a path to economic success and help break away from intergenerational inequity. This is also a two-way street. Indigenous people have a lot to offer all students and teachers with unique perspectives and ways of knowing based on the land we live on.
There are so many different career paths and opportunities that it can often feel overwhelming for students to decide what to do. Can you share a bit about how your career evolved to this point?
I started out in Biosystems Engineering, which is the application of engineering principles to the biological world, for example, biofuels, water and waste-water treatment, pharmaceuticals, and agriculture. My master's research focused on membrane bioreactors for water treatment on northern First Nations. While it was highly technical and I can geek out with the best of them, my main motivator was to solve real problems and help people and communities thrive. This combination of environmental systems, technology, and social impact was the start of my journey in sustainability and hold as much power for me today as they did then.
How do your experiences as a Métis individual inform how you approach your work?
My Métis experience serves as a source of inspiration and helps me in a few ways:
I feel that I often walk in two worlds, which requires balance and an ability to translate between various groups. I know my ancestors blazed that path a few hundred years ago.
As a reminder that we need to stand up for what's right and strive to fix unjust systems. The Red River Métis fought for recognition in Canada which resulted in the formation of the Province of Manitoba. While there were 150 years of hard times since Confederation, that has been improving. When different cultures come together with acceptance, inclusivity, and reciprocity, we can achieve shared prosperity. The Métis achieved it with our First Nations relations 300 years ago and it can guide our approach today.
You're playing a significant role in shaping Keyera's approach to sustainability. What are some of the areas you're most proud of?
I'm most proud that Keyera works to protect the environment, create positive social impact, and strives to generate long-term business value. This balanced approach is best exemplified in our parallel path to energy transition with a strategic eye on the horizon to manage risks and capitalize on opportunities.
About Social Investment at Keyera
Through Keyera Connects, we support causes that strengthen the environment, advance Indigenous reconciliation and build community resiliency. The Indigenous Reconciliation pillar supports our approach to actively listen, seek to understand and advance reconciliation with Indigenous Peoples, communities and organizations. We are excited to celebrate Indigenous Peoples through Indspire while also supporting and encouraging Indigenous students to pursue their education.
More information
For more information on Indspire, click here.
Contact Us
How can we help? Email us with comments, questions, or feedback.
Let's talk