Focusing on our people and culture sets the foundation to achieve better business performance.
Attracting and retaining top talent provides Keyera with a significant competitive advantage in achieving our goal of #1 in Safety Performance, customer recognition, and total shareholder return.
OUR APPROACH
Our strong people and culture focus is reflected in our values and our cultural behaviours.
Culture is the fabric that connects our team and aligns our efforts. It guides how we treat one another, our customers, communities and other stakeholders, as well as how we deliver on our commitments and execute on our strategy.
Since our inception in 1998, we have carefully developed our culture, which is characterized by teamwork, integrity, and an entrepreneurial mindset. We believe our commitment to integrity and cultivating talent creates a responsible and sustainable organization, positioning us to deliver long-term value. To support and sustain our culture, we reinforce our values and cultural behaviours through regular employee communication and formal training held throughout the year.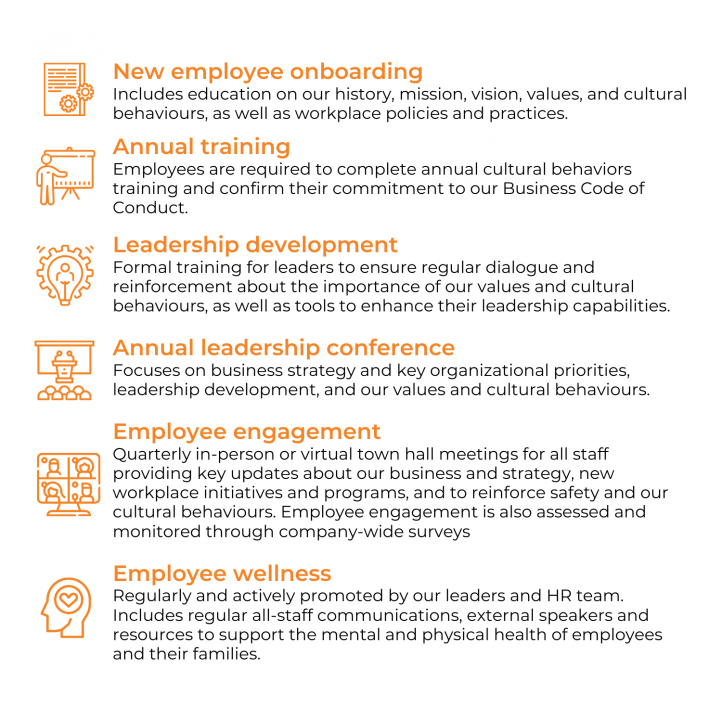 Diversity and inclusion

Committed to diversity, equality, and inclusion

We define teamwork, one of our core values, as "embracing diversity and working together." We believe that embracing different experiences and perspectives sparks innovation, contributes to broader, more progressive solutions, and drives better business outcomes. It also helps us attract and retain a more inclusive spectrum of talent and perspectives, which we believe are critical to achieving our vision.

Our commitment to diversity and inclusion is supported by our diverse leadership team, who provide a consistent and constructive tone from the top. This encourages mutual respect and reinforces our belief that all voices and opinions hold value in our workplace. We have a long-term commitment to increasing gender diversity and have appointed more women to technical and leadership roles in recent years.
Pillars of our diversity and inclusion program:

Employee development

Focused development is an investment in our long-term success

We have a formal top talent development program. Approximately two-thirds of participants typically receive new opportunities within three years of entering the program. These efforts are in addition to our annual succession planning program, which systematically identifies the readiness of internal succession candidates for key leadership roles within the organization.

We also have a robust performance management program for all employees. Employee professional development is also supported through ongoing formal mentoring and coaching programs, internal seminars and education sessions, and funding for key skills development. Each member of our Executive Team is responsible for mentoring top and emerging talent and ensuring robust development and succession planning.
Contact Us
How can we help? Email us with comments, questions, or feedback.
Let's talk